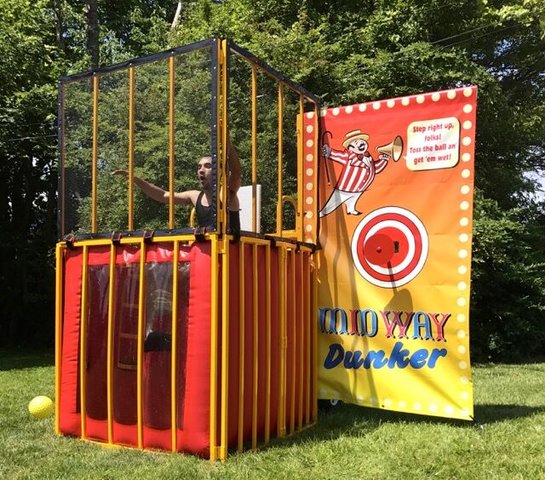 Dunk Tank
Our dunking tanks have been delighting crowds for years. The concept of dunking the boss at the company picnic, school event or dunking the local "celebrity" at fundraiser events has become an American pastime.
The Dunk Tank has always been a leading money maker at fairs, carnivals, and block parties as well as a great party item!
A great, fun way to cool day on a hot summers day!
Note: Customer is responsible for filling up the dunk tank. Average fill time with a garden hose is one hour. If you coordinate through your local fire department, they can typically fill it up within 10 minutes. 450 Gallons.
Renter mus have an adult, 18 years or older, on duty to supervise the dunk tank while filled with water.

Dunk tanks will be drained when not attended

Age limit of dunkee is 18 years or older NO CHILDREN ALLOWED AS DUNKEE
Minimum Requirements:
Water source and garden hose capable of reaching dunk tank

Note: due to constant product development and improvement, artwork, shape, color, size, description, and schematic that appear on the web may not reflect the latest changes.

$350 UP TO 6 HOUR RENTAL
Call for special packages
281-353-2056
*CUSTOMER PROVIDES A WATER HOSE AND WATER ACCESS