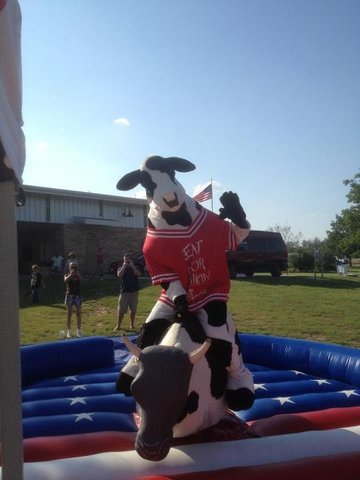 Rocky The Mechanical Bull
Setup Area: 20 ft x 20 ft
Outlets: 2 Seperate 110V Outlets




The Ultimate Event Attraction!
Meet "ROCKY", the Mechanical Bull! You Plan The Event. We Deliver the Mechanical Bull Directly To Your Event, Set Him Up, And Staff Him For The Duration Of Your Event!
What could be easier... You just give us a call and we do the rest!
Mechanical Bull Rentals for all events, including Private Events, Large Public Events, and Lounge, Bar & Restaurant events. Graduation and corporate party planning ideas, school field day and fundraising events, corporate events, graduation and birthday parties.Mechanical bull rentals are a perfect addition to any Western Event or party!
We offer a safe and fun experience! "Rocky" has a revolutionary "life-like" soft head and immediate stop mechanism to keep all riders out of harms way. The air cushion landing ring let's you off easy; in case "Rocky" doesn't! but he is also Sofolex Soft Foam soft in the head. That's right, he has a special latex mold noggin to insure that nobody will meet a hard ending if they go head to head with him!
If you are looking to rent a mechanical bull for your next event, our mechanical bull comes fully staffed- with a trained mechanical bull operator! We are licensed and INSURED.We have your Tomball mechanical bull rental. We have your Houston mechanical bull rental.
The Mechanical bull runs off 110volt, 20amp . . . that means our mechanical bull will work just about anywhere! And we are happy to bring "ROCKY" to you Anywhere in Texas! Call Today 281-353-2056
Ages 5 to adult. Power: 2-20 amp designated circuits needed. We can bring a generator if power is a concern for an additional charge. SPECIAL RATE $500 for up to 2 Hrs. Additional hours only $175 per each additional hour!